Christian Art?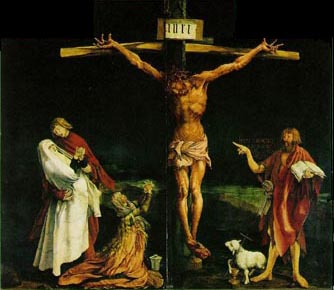 Grunewald's Isenheim Altarpiece
There is an interesting discussion over at
Purgatorio
about what constitutes Christian art. Above is an altarpiece in a church that housed a hospice for plague victims. Jesus is shown broken and covered in sores. It was painted in an effort to comfort those who were broken and in pain. This picture is in stark contrast to many contemporary versions of Jesus.
Another question. Does "Christian art" even need to portray images that are obvious Christian symbols or Jesus figures? Go over to Purgatorio and join in the discussion.